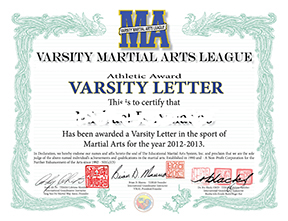 THE MARTIAL ARTS ATHLETE
Star pitcher, quarterback, point guard, forward, center, marksman, goalie are some of the many words associated with positions and or titles of the traditional sports of varsity and junior varsity programs.
The Varsity Martial Arts League (VMAL) presents to the martial arts athlete an opportunity to expand their recognition by striving to be their best. VMAL awards are obtainable by any martial artists that meets the requirementsIn 2021 the VMAL welcomed the first of many martial arts associations, The Educational Martial Arts System, Inc. (TEMAS), in joining the ranks to expand recognition for the martial artist. VMAL programs will offer specially designed emblems, pins and certificates of achievement, exclusively for martial arts. Programs are designated for Junior Varsity Letter, Varsity Letter membership and Collegiate Varsity Letters. Martial artists starting in eighth (8) grade through the completion of their higher education will be able to apply for this personal achievement.
"The martial arts athlete have earned the right to level the playing field and to be recognized among the most dedicated athletes," shared B. Manna, TEMAS Executive Director. "Week in week out the martial artist is putting in the hours to train their mind and body for personal development and compete in a sport that they love, at the same time sharing and building the members they train beside."
Until now very few of the eighth grade through collegiate martial artists have had the opportunity to letter in martial arts. So many of the world class athletes improve their skills cross training in the martial arts. We remain excited about the recognition that the martial artist will now receive throughout the sport. This will enable the martial artist to earn the recognition they deserve, on a level playing field alongside other athletes and classmates.
These programs are open to martial arts athletes in all styles, disciplines and affiliations who are enrolled in 8th grade through continued education and are currently VMAL members or become VMAL members. The program will run June 1-May 31 of each year, and will honor those who document their training and competition involvement by awarding emblems, pins and award certificates. They are designed to be worn on existing letterman's jackets, or any jacket of the athletes' choosing, as a symbol of achievement.
You will be required to complete the VMAL application, either online or download and submit by mail or fax.
SUPPORT DOCUMENTATION - open to view then you may download a copy.
VMAL Information Booklet ....... VMAL Application ......... Letter from studio owner. .......................................
...........
....................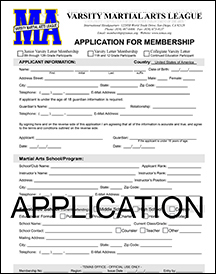 ......................
.................
.............